Why so many are Investing in Calgary
Have you been to Calgary international airport recently? more people are arriving in Calgary every day, Calgary is one of the fastest growing cities in North America. making it a very cunning place to move to right now.
With hundreds of thousands of square feet of office space Vacant and available for rent in Calgary, the opportunities have never been better for small businesses and Entrepreneurs to move their business addresses here and lease in Calgary to start or continue their professional Stories.
Calgary, Alberta is a thriving business landscape. It is a magnet for entrepreneurs looking for promising investment opportunities.
Explore why this city is such an attractive destination. With its dynamic economy, flexible office rentals, top-notch commercial real estate, and supportive community, Calgary offers an ideal environment for entrepreneurs to flourish. In this article, we delve into why investing in Calgary can lead to business success.
Robust Economy and Prime Calgary Office Space
Calgary boasts a resilient and diverse economy, serving as a solid foundation for new ventures. Its thriving industries, including energy, technology, finance, and agriculture, provide a wealth of opportunities for aspiring business owners.
To support your enterprise, the Calgary Business Centre offers private office spaces and office space for rent fully furnished and tailored to your needs, providing a professional environment to establish and grow your business.
Nurturing Entrepreneurial Spirit:
Calgary is renowned for fostering an entrepreneurial spirit that encourages innovation and collaboration. With a vibrant startup community and a network of supportive business connections, entrepreneurs can access mentorship, resources, and funding opportunities.
The Calgary Business Centre is a hub for industry professionals. It features shared offices and a vibrant atmosphere. This allows like-minded individuals to connect and collaborate.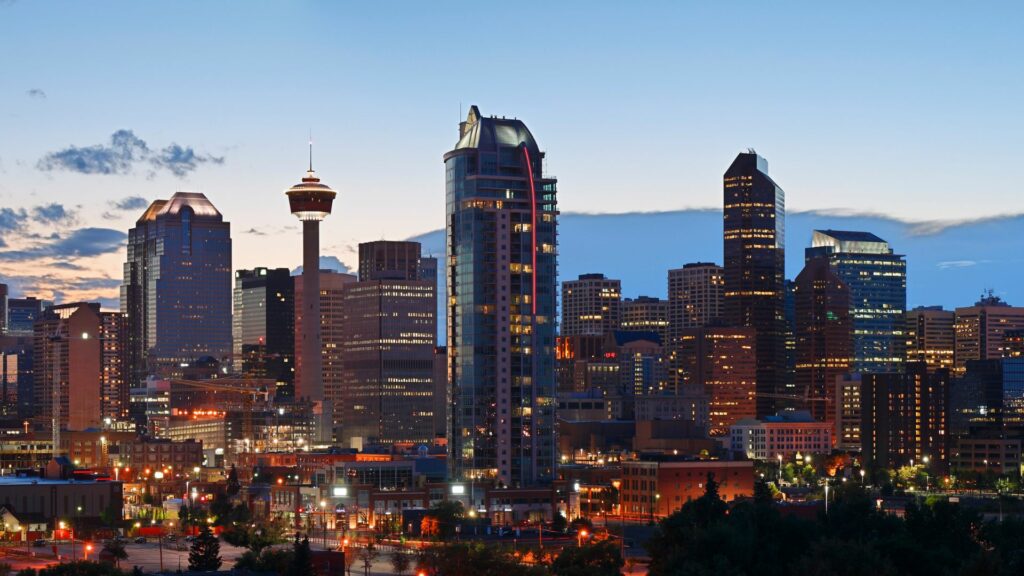 Skilled Workforce at Your Fingertips:
Tap into Calgary's highly educated and skilled workforce to drive your business forward. The city boasts renowned educational institutions that produce top talent across diverse fields.
When you set up shop in Calgary's prime office space, you gain access to this pool of qualified professionals, ready to contribute to your business growth.
Cost-Effective Solutions and Calgary Office Rentals:
Compared to other major Canadian cities, Calgary offers cost-effective business solutions. From affordable office rentals to competitive wages and favorable tax policies, the Calgary business centre provides an environment where entrepreneurs can allocate their resources strategically.
This allows you to focus on investing in growth strategies while optimizing your business expenses.
Access to Capital for Calgary Business Ventures:
Calgary boasts a robust investment and funding ecosystem. Venture capitalists, angel investors, and private equity firms actively seek opportunities to support promising business ventures. Additionally, government grants and funding programs encourage entrepreneurship and innovation.
By setting up your space in Calgary, you gain access to diverse capital sources to fuel your growth and expansion plans.
Quality of Life and Work-Life Balance:
Calgary offers an exceptional quality of life, making it an attractive destination for entrepreneurs and their teams. Enjoy a clean environment, abundant green spaces, and a wide range of fun activities that contribute to great work-life balance.
The city's Has:
vibrant arts and culture scene,
diverse culinary options
Incredible entertainment and sporting events
Festivals and public Growth initiatives
ensure your team can thrive and feel fulfilled beyond office hours.
Investing in Calgary opens doors to exciting opportunities for entrepreneurs.
Robust economy
Flexible office rentals
Prime Calgary office space at the Business Centre
Skilled workforce
Cost effective solutions
Access to capital, and exceptional quality of life
Calgary is the perfect launchpad for your business success.
Embrace Calgary's spirit. Connect with the supportive community at the Business Centre. Start your journey to success.
The Calgary business Centre is ready to assist you. It doesn't matter if you're setting up a local branch or moving to Calgary. This centre offers great opportunities to capitalize on the potential of the Calgary area.